Breathing Problems
When you have trouble breathing through your nose, it can be due to many different upper respiratory conditions. From inflammation and infection to enlarged components and blockages, there are many conditions that can impact your breathing. Nasal breathing is vital for health, helping improve the quality of air that enters your lungs and body. At Julie Zweig, MD Integrative Sleep & ENT, we offer advanced breathing problem treatments at our center in Alpharetta, GA.
Types of Nasal Breathing Problems
There are many different conditions that can restrict nasal breathing. Most people have experienced temporary loss of nasal breathing when they have a cold or flu that causes excess mucus or a stuffy nose. When the tissue in the nasal passages are inflamed, it can restrict air flow. Some of the various types of nasal breathing problems we treat at Julie Zweig, MD Integrative Sleep & ENT include:
Allergic rhinitis – inflammation of the nasal tissues due to allergies
Enlarged turbinates – blockages caused by inflamed or hypertrophy of turbinates
Nasal polyps – growths or polyps inside the nasal passage
Adenoid inflammation – enlargement of the adenoids in the back of the nasal passage
Deviated septum – a septum that is off-center and blocking the nasal passage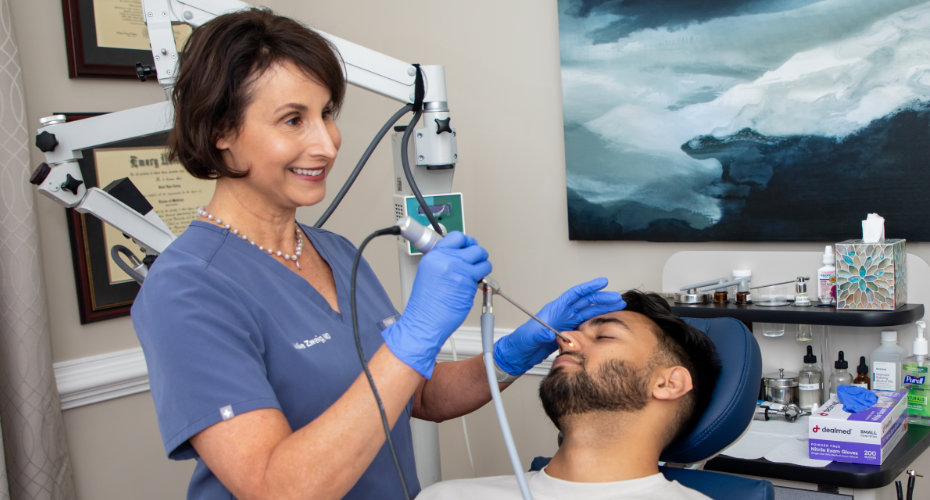 These issues can also impact breathing while sleeping. If nasal breathing is difficult, many people will snore and attempt to breathe through their mouth. This can lead to sleep apnea, a dangerous health condition which results in stopped breathing while sleeping.
Treatment for breathing problems depends on the cause. Conservative, non-surgical options are usually recommended by our ENT specialist to restore natural breathing. We utilize an integrative and functional medicine approach to patient care, focusing on the least invasive options to improve overall health.
Dr. Julie Zweig is a highly respected and experienced ENT specialist. She provides advanced treatments for nasal breathing issues and sleep apnea at our clinic in Alpharetta, GA. If you are experiencing nasal conditions that are causing breathing problems, treatment is available at our office. Contact us today to schedule your appointment at Julie Zweig, MD Integrative Sleep & ENT in the north Atlanta area.