Sinus, Allergy, Nasal Treatments
Troublesome nasal problems can make you miserable and impact your health. If you have chronic sinusitis, allergies or nasal obstructions, there are effective treatments available to improve your upper respiratory health. At Julie Zweig, MD Integrative Sleep & ENT, we provide functional and alternative medical sinus, allergy and nasal treatments at our clinic in Alpharetta, GA.
Dr. Zweig has over two decades of experience as a dual board certified ENT and sleep medicine specialist. She focuses on providing holistic, integrative medical care for her patients, utilizing conservative treatments whenever possible. For sinus and nasal health concerns, Dr. Zweig can perform a thorough and comprehensive evaluation to determine the best treatment plan for each patient. When medications and lifestyle changes are not effective at controlling chronic conditions, she may recommend minimally invasive procedures to achieve nasal and overall health.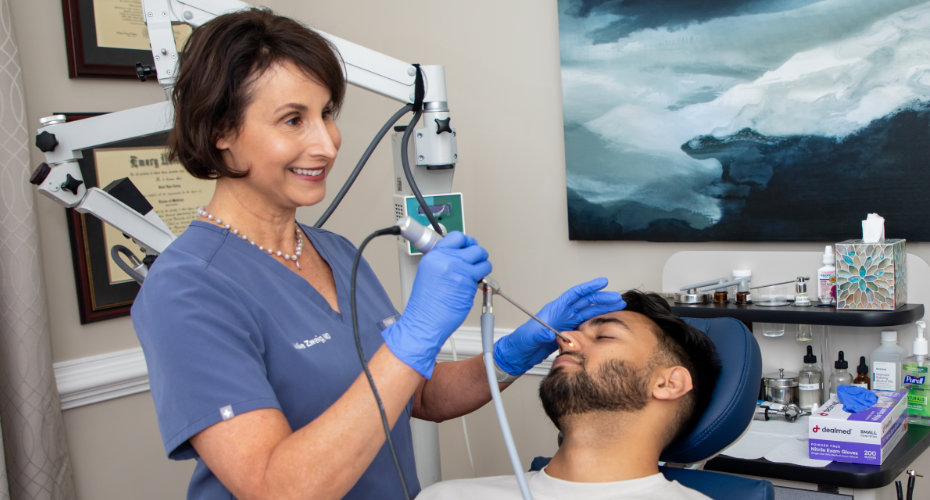 Relief for Nasal and Sinus Conditions
You do not need to live with debilitating sinus infections or chronic allergies. There are effective treatments for nasal, sinus and allergy conditions to give you relief. Dr. Zweig and our medical team at Julie Zweig, MD Integrative Sleep & ENT can create a personalized treatment plan to address your specific health concerns. We offer innovative procedures to improve upper respiratory health and relieve nasal and sinus conditions. Our treatments include:

When you can breathe freely and have improved respiratory health, it can improve your overall wellness. If you have been living with nasal obstructions, sinus infections, allergic rhinitis or other nasal conditions, come see us at Julie Zweig, MD Integrative Sleep & ENT. We can recommend treatments to give you relief from your symptoms, addressing the source of your condition. Contact our medical center in the Dunwoody, Roswell and Alpharetta, GA, area in north Atlanta to schedule your nasal or sinus consultation and exam. Dr. Julie Zweig and the rest of our medical team welcome patients of all ages with ear, nose, throat and sleep conditions at our clinic.