Turbinate Reduction Surgery
The turbinates in the nose are small shelves of tissue that cover the turbinate bones on the outside of the nasal passage. Turbinates provide warmth and moisture to the air entering the airway, but they can be irritated by inflammation. When you have a cold or allergies, the turbinates can swell and cause nasal obstruction. If this condition becomes chronic, you may need treatment to open your nasal passage. At Julie Zweig, MD Integrative Sleep & ENT, we offer turbinate reduction surgery at our facility in the north Atlanta, GA, area.
Frequent nasal inflammation can result in chronic turbinate enlargement. This can cause a nasal obstruction that can result in a variety of upper respiratory issues. Those with enlarged turbinates may experience a constant congested nose. They may have difficulty breathing through their nose, especially when sleeping or during exercise. Snoring and obstructive sleep apnea can be related to enlarged turbinates, which can put your health at risk.
Turbinate reduction surgery can minimize the size of the turbinates to improve nasal breathing and health. The procedure can often be performed using minimally invasive methods without incisions or extensive downtime. Patients with enlarged turbinates can enjoy better breathing and improved overall health once their nasal passages are opened and functioning properly.
Nasal Obstruction Surgery
Reducing the size of the turbinates can be performed using radiofrequency energy or surgical tissue removal. Whenever possible, minimally invasive methods are used to shrink the inflamed tissue in the turbinates. RF energy can be used to remodel the tissue in the nasal valves and turbinates, which can open the nasal passages for better breathing. In some cases, surgical removal of tissue or bone may be necessary if the turbinates are extremely enlarged – RF procedures do not reduce the size of bone, only the soft tissue.
VivAer® Turbinate Reduction Treatment
Lasting relief is possible.
If you regularly experience difficulty breathing through your nose and nothing seems to help, you may have nasal obstruction. Until now, finding a long-term solution often meant surgery. Now, your physician may be able to offer you lasting relief by performing a non-invasive VivAer treatment to open your nasal airway.
Lasting Relief. 97% of patients experienced significant improvement in nasal breathing.
Non-invasive solution. Minimal discomfort, no incisions, and can be performed in our office.
Live better. Clinically shown to significantly improve quality of life and provide long-lasting relief.
Breathe better. Live better.
The VivAer treatment is clinically shown to provide high satisfaction and lasting relief. Patients typically return to normal daily activity the same day.
97% of patients experienced significant improvement in nasal breathing
94% of patients improved their ability to get enough air through their nose during exercise or exertion
89% of patients reported getting a better night's sleep
Am I a candidate for the VivAer® treatment?
To find out, take these two simple tests.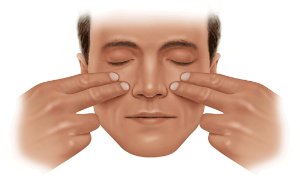 Cottle's Maneuver
Step 1. Place two fingertips on your cheeks, on each side of your nose.
Step 2. Gently press and pull outward to further open your nasal passage. While holding, breathe through your nose.
Did the Cottle's maneuver help you breathe better? If so, you may be a candidate.
NOSE Score
Complete the questionnaire below.
If you have nasal obstruction that is caused by enlarged turbinates, reduction surgery may be the solution to improve snoring, OSA or poor breathing. To learn more about turbinate reduction surgery options, come see us at Julie Zweig, MD Integrative Sleep & ENT. Contact our office in Alpharetta, GA, to schedule a consultation with our ENT specialist.