Sinus and Nasal Conditions
Sinus and nasal congestion and inflammation can impact your quality of life, especially if the conditions are chronic. The upper respiratory system can be affected by many health conditions, resulting in runny noses, inflamed sinuses, headaches and many other symptoms. At Julie Zweig, MD Integrative Sleep & ENT, we provide accurate diagnosis to determine the most effective treatment for sinus and nasal conditions at our clinic in Alpharetta, GA.
The nasal and sinus passages are vital for both breathing and filtering the air coming into the body. Due to the many bacteria and viruses that are airborne, the nose is often the first place infection can occur. Part of the immune system response to infections is creating more mucus, which can result in a runny or congested nose. Colds, flu, allergies and many other health conditions can affect the sinuses and nasal passages, resulting in breathing and discomfort issues.
A few days of nasal congestion or even sinus pain are usually not a major health concern. Seasonal allergies and common colds can result in symptoms that affect the upper respiratory system. However, when you have frequent nasal congestion or recurring sinus infections, it is important to receive diagnosis and treatment from an ENT specialist.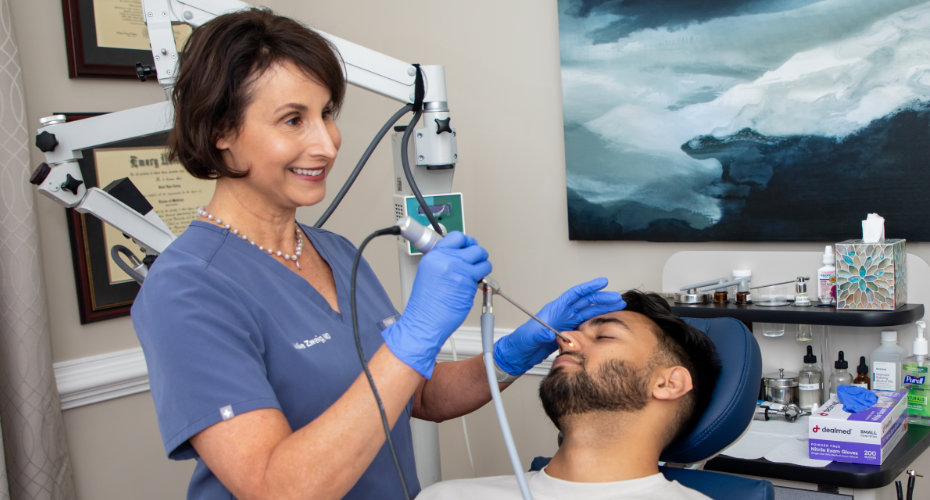 Relief for Nose, Sinus and Throat Conditions
The nose, sinuses and throat are all connected, along with the ears. When you have a nasal condition, it can result in spreading symptoms throughout the head and neck. If you are experiencing chronic or frequent nasal or sinus issues, Dr. Zweig and our team can determine the source of your illness. Our clinic offers treatment and relief for the following sinus and nasal conditions:

NOSE Score
Complete the questionnaire below.
If you have sinus pain or pressure, nasal obstruction, nasal breathing issues or other nose/sinus concerns, come see us at Julie Zweig, MD Integrative Sleep & ENT. We provide an integrative and functional medicine approach to determining the cause of upper respiratory conditions with holistic treatment for our patients. To schedule a sinus or nasal condition exam and consultation, contact our clinic located in the Dunwoody, Roswell and Alpharetta, GA, area.